Dreamville Festival is Coming Up!
Dreamville Festival will be the first event of its kind for the region as it looks to provide a thoughtfully-curated, multi-stage music event from J. Cole, who himself was raised in nearby Fayetteville, North Carolina. The festival offers an opportunity for J. Cole to give back to his home state that has helped shape the artist he has become with a one-of-a-kind celebration of local culture, food and art that also features a curated selection of music performers blending together some of today's biggest national acts with exciting up-and-comers.The festivals itself aims to provide a unique opportunity for locals and traveling visitors alike to gather and enjoy a music celebration in one of Raleigh's most beautiful and historic locations, Dorothea Dix Park – Raleigh's largest city park with over 300 acres of public greenspace.
"Dorothea Dix park is excited to host the inaugural Dreamville Fest," says Kate Pearce, Senior Planner for Dorothea Dix Park for the City of Raleigh. "This is not only an opportunity to celebrate music and community but also a way to start to understand how Dix Park May evolve into a great music destination in the state of North Carolina."
Dreamville Festival's ultimate goal is to not only have a positive and substantial economic and cultural impact on the city itself and the surrounding region, but also to become one of the most anticipated annual events in the city – one that is a perfect complement to the existing event landscape and cultural fabric of the City of Raleigh.
---
Some of hip-hop's heaviest hitters will be visiting Raleigh for Dreamville Festival's inaugural year, including SZA, 21 Savage, and Big Sean, but there will be quite a few North Carolina natives alongside them on the line-up.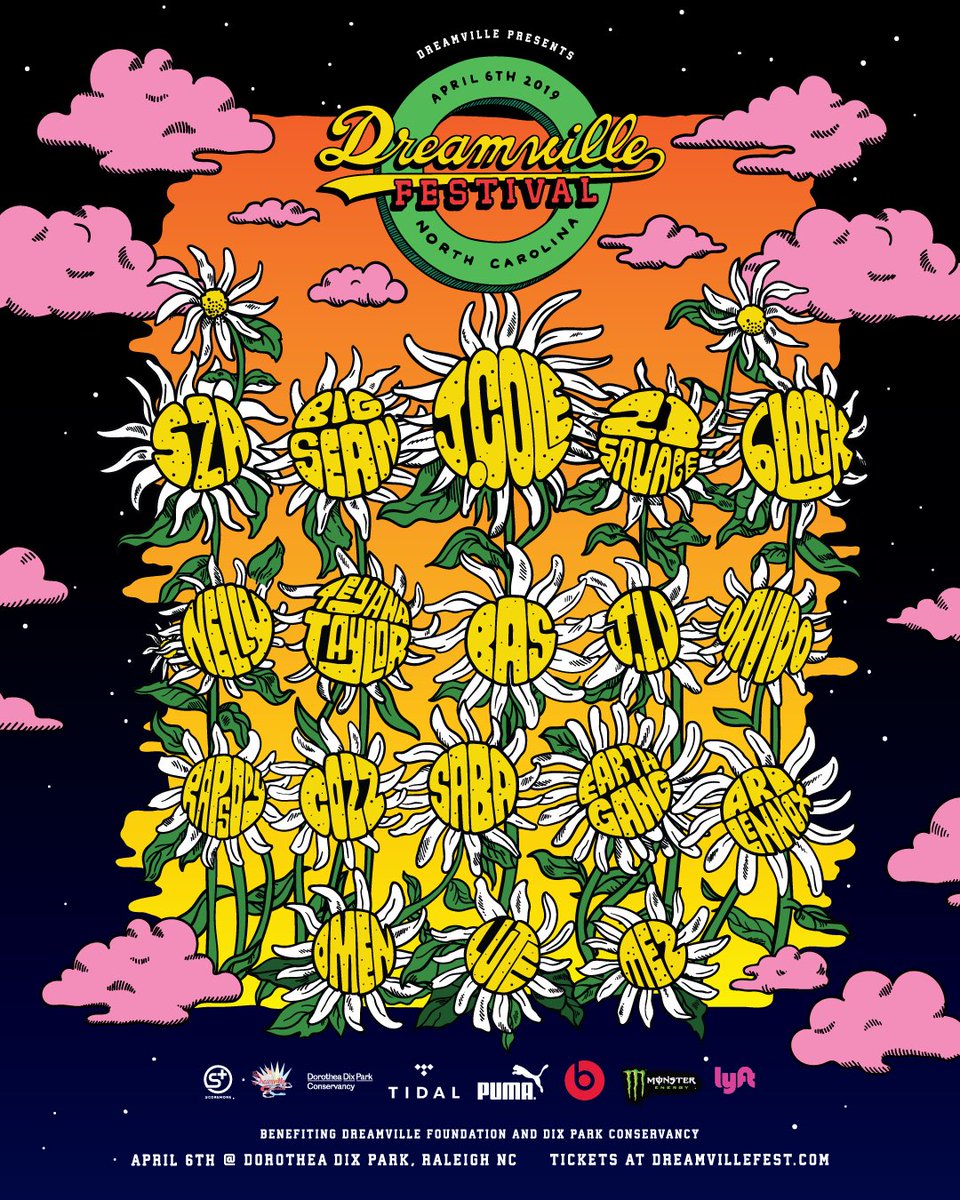 J. Cole
International hip-hop superstar is a friendly face around Raleigh. When he's not selling out stadiums and dropping platinum albums, you can find him playing pick-up basketball at a local gym or shooting an off-the-cuff music video. His work with the Dreamville Foundation emphasizes his desire to uplift his community, with the mission statement: "To reveal to the urban youth, their limitless potential, through positive life- altering experiences."
Rapsody
A Snow Hill, NC native, Rapsody has established herself as a major player in today's hip-hop scene. Signed to fellow North Carolinian 9th Wonder's label, Jamla Records, her slew of solo releases, collaborations, and features look more like a veteran's rap-sheet than an up-and-coming phenom's. She served as the lone feature on Kendrick Lamar's 2015 Grammy Award winning album To Pimp a Butterfly and her most recent solo release, Laila's Wisdom, was nominated for a Grammy in 2017 alongside Lamar, Jay-Z, Tyler the Creator, and Migos. 
Lute
Hailing from Charlotte, NC, Lute was signed to J. Cole's label, Dreamville Records, in 2015. His debut album, West1996 pt. 2, was recorded entirely in North Carolina and tells the story of his life leading up to his signing with Dreamville. 
Mez
Mez grew up in Southeast Raleigh and has established himself as one of hip-hop's premiere producers, rappers, and songwriters. Alongside his 5 solo releases, Mez has collaborated with the likes of J. Cole, Kanye West, and most famously, Dr. Dre – with his work on Dre's 2015 release, Compton, propelling him to star-status.